For Sandra: 5-7′ bookcase, desk chair
For Ukrainian family of four: view list and donate here.
For Ecuadorian family of six: Housing (Ossining preferred), furniture
To donate other items, please use our in-kind donations form.
Help us roll out the Welcome Mat
Two new refugee families need furniture, housing
The Ukrainian family of four with two little ones is finally arriving in early December. Congregation Sons of Israel of Briarcliff (CSI) has found them safe housing in Ossining, but they are looking for a not-too-large couch, a pair of main bedroom side tables, plus a list of smaller household items. 
To view CSI's needs for this family and volunteer to help, please click below. 
The Ecuadorian family of six with three teens and a 22-year-old is expected in two to five weeks. They need a three-to-four-bedroom apartment or house, Ossining location strongly preferred. Please explore housing opportunities within your network, including among snowbirds. Our new neighbors have all proven to be excellent and reliable tenants but for added peace of mind, Open Arms guarantees rent payment. 
If you have furniture to offer this larger family, please submit specs and photos using our intake form below.
Thank you for partnering with us in welcoming these two new families.
"Afghanistan Underground" – In Case You Missed it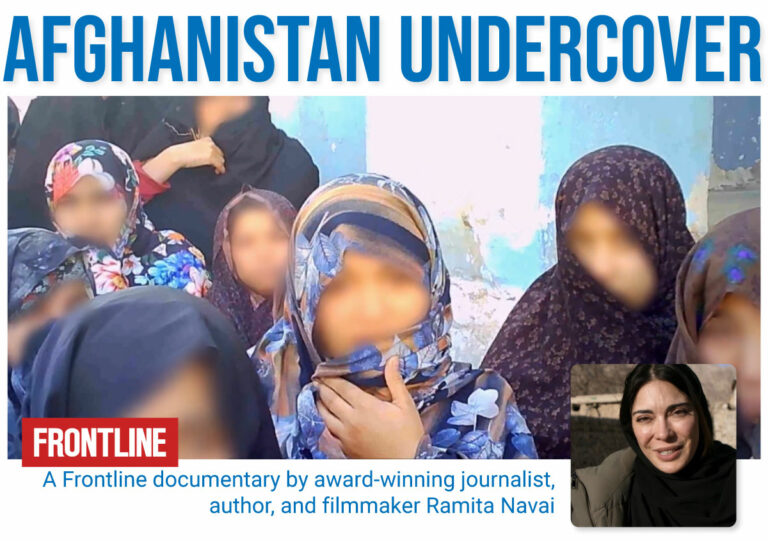 The Open Arms presentation of "Afghanistan Undercover"on November 17 was powerful – a riveting film, a rare opportunity to hear personally from the filmmaker, and a coming together of the resettlement community in solidarity for refugees.
In the documentary, Frontline correspondent Ramita Navai escorts us inside the protests, the prisons, and the burn units, where we hear directly, often through hidden cameras, from the persecuted women of Afghanistan. Their faces blurred to protect them, Ramita gives voice to their daily pain and suffering – the arrests without charges, the tasering, the beatings. To complete their humiliation, the women feel compelled to mouth appreciation for the Taliban when a guard comes close.
Remarkably, Ramita also films Taliban leaders explaining that the stories she has heard, from women we have seen with our own eyes, cannot be true because they would be contrary to Islam and to Sharia law. One leader demands Ramita adjust her head scarf, in an easy presumption of complete authority over women. It is chilling.
In conversation with Ossining Town Supervisor Dana Levenberg, Ramita made clear that while many Taliban have learned to say the right things, their actions prove otherwise. Ramita  also provided reassuring follow up about the outcomes of the outspoken women featured in the film – how they have escaped as refugees, bringing us full circle on the importance of our work.
To view this bold, revealing and painfully honest documentary, please click below.
Frontline Documentary AFGHANISTAN UNDERCOVER at Ossining Public Library
LIVE INTERVIEW WITH COURAGEOUS FILMMAKER TO FOLLOW SCREENING
Award-winning journalist, author and filmmaker Ramita Navai has a reputation for investigations in hostile environments. In Afghanistan Undercover, she chronicles the harsh treatment of women, with in-person interviews of women across Afghanistan, all boldly filmed in the last year. She also secretly films inside a jail holding women without charges and confronts Taliban officials. In support of Open Arms and our mission, Ramita is sharing her timely Frontline documentary at no charge. After the film, Ramita will be interviewed via Zoom by Ossining Town Supervisor Dana Levenberg and take questions from the audience.
Please join Ramita, Dana and other Open Arms volunteers and supporters for this insightful and moving documentary and discussion. It is also a chance for those doing the work to meet our many wonderful supporters. Sofia Bator, herself once an Afghan refugee and now Open Arms co-founder, will also be with us. Join us on Thursday, November 17 at 7 PM at the Ossining Public Library for this truly unforgettable event.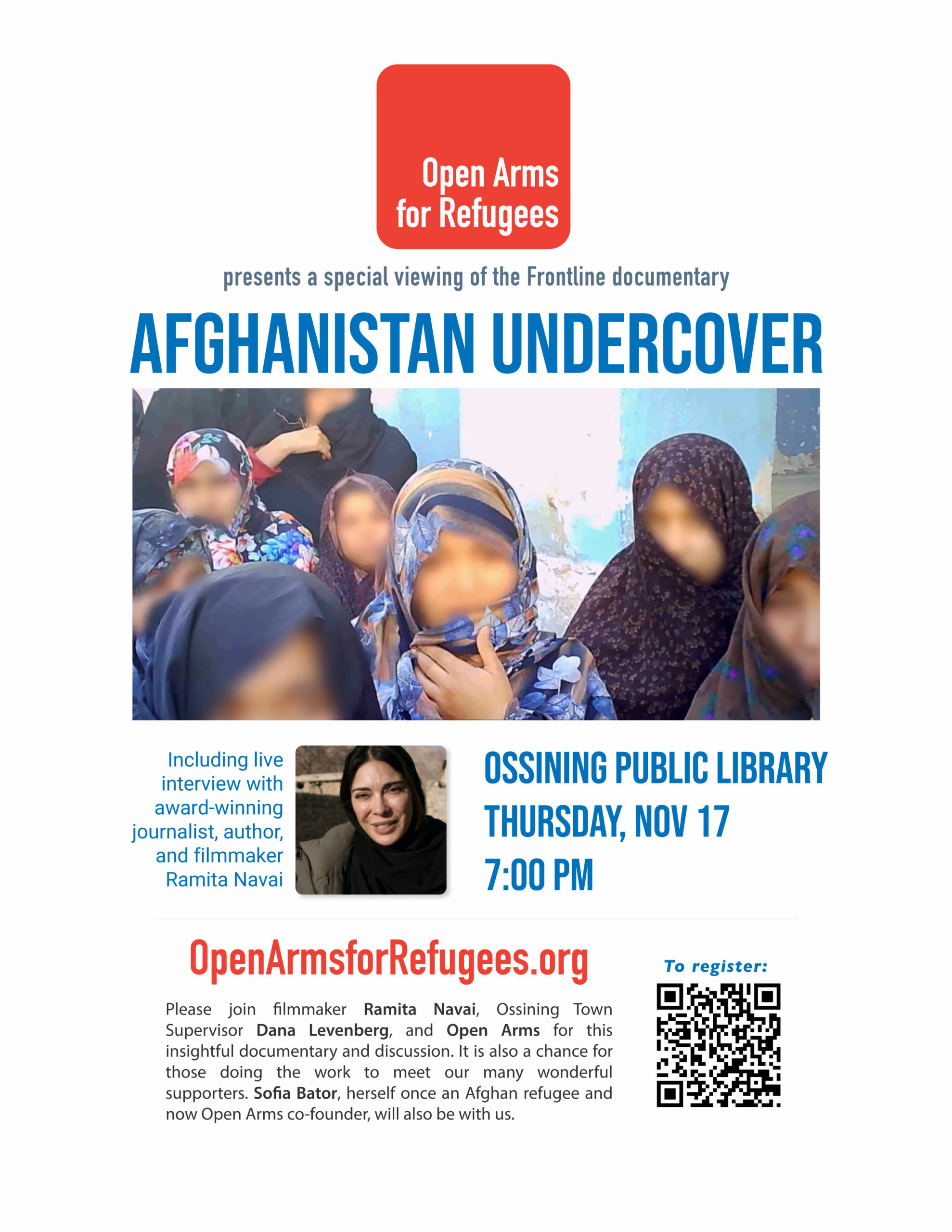 Not-to-Be-Missed Concert for a Cause – Sunday, November 6, 3 PM
Piano virtuoso Hui-Mei Lin has again assembled a distinguished group of musicians to perform an
outstanding program for the benefit of Open Arms for Refugees. It will be held on Sunday afternoon, November 6 at 3 PM at Pleasantville Presbyterian Church. Donations will be collected as a free will offering and matched 2:1 thanks to the generous David Swope Fund grant.
The program, "Dynamic Duos," will feature three duets – Peter Seidenberg on cello and Hui-Mei Lin on piano, flutist Elyse Knobloch performing with classical guitarist Peter Press, and vocalist Oshon Temple accompanied by Peter Flemister on piano.
Enjoy a beautiful musical break from the busy fall season and help extend Open Arms to welcome newcomers.
Good vibrations in our community
LOCAL CELEB TO PLAY BENEFIT EVENT ON OCT 23
Fans have been flocking to Scarborough Presbyterian Church to see talented recording artist Norm Dodge perform their favorite rock tunes on guitar. On October 23 at 7 PM, friends and followers will have even more to cheer about, since the popular "Sunday Night Norm" event at the Church will benefit two community organizations playing a huge role in peoples' lives — Open Arms for Refugees and the Emergency Shelter Partnership (ESP). ESP, hosted at alternating houses of worship, provides a hot meal, a warm place to sleep and a hearty breakfast for homeless people in our area during the colder months.
Bring your friends. Enjoy mingling, the music, drinks and snacks as you meet volunteers from both groups. There is no charge to attend but free-will donations are welcome. Monies allocated to Open Arms will be matched 2:1, thanks to a generous grant from the David Swope Fund. 
ALSO, SAVE THE DATE: NOV 6
On November 6 at 3 PM, piano virtuoso Hui-Mei Lin presents an extraordinary concert, also featuring cello, guitar, flute and gospel works, at Pleasantville Presbyterian Church.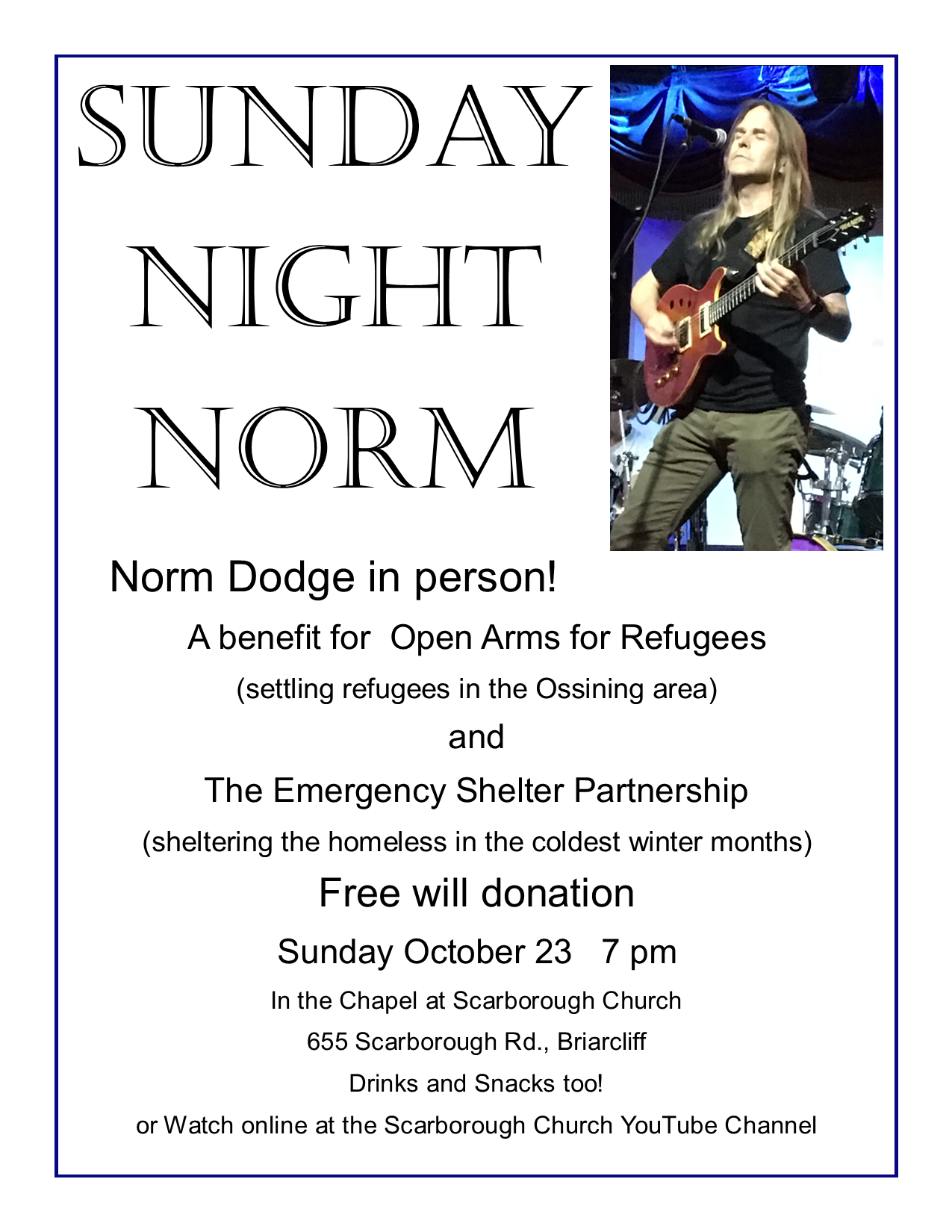 Working as a Community Team
Volunteers from "supporting organizations" have been an essential part of Open Arms since inception. Another way that a congregation can directly assist refugees is by itself forming the core of a Community Team to work on a specific resettlement.
The Ethical Society of Northern Westchester did just that with the Colombian family resettled this summer. Their members comprise the core and the leadership of the "community team" that has the primary day-to-day relationship with the family – from the initial welcome to Ossining and getting library cards, to weekend activities, birthday parties, after school help, and chicken soup when a family member is sick.
Other Open Arms volunteers worked on housing, health insurance, jobs and funding, and some have also joined that community team. We all work together, and many hands make light work. But it was great to start with a core group that knows each other and shares a "faith in the human capacity to create a better world." And they are now familia to our new neighbors from Colombia.
Perhaps your congregation would be interested in exploring such work. Please contact us at info@OpenArmsForRefugees.org.
Sharing your professional skills
These weekly updates often note our need for funds, for home furnishings and for volunteer time to create a warm welcome, a sense of community, and, if we are lucky, lasting friendships.
Your professional skills and services can also help our new neighbors. For example:
Legal mentoring: Speak periodically with a young Afghan lawyer about her work in the NY Courts and with US law.
Dental work: Provide elective services such as extractions or orthodonture.
Engineering: Help an experienced electrical engineer find a job in her field.
Human Resources: Do practice interviewing with any job candidate.
Finance: Help our new neighbors create a budget or file for tax refunds; assist Open Arms with financial reporting.
Hair styling, manicures and other personal grooming. There is nothing like a "new do" to make people look and feel good.
There is so much knowledge and talent in our community. Offer to share yours by emailing us at info@OpenArmsForRefugees.org.
Community Teams: The Heart of Community Sponsorship
In all four resettlements to date, Open Arms has used the model of a dedicated local Community Team that engages regularly with the family from Day One. This team is supported by specialized Open Arms co-chairs in housing, furnishings, ESL, employment, healthcare, and personal budgeting/finance.
For example, in Cold Spring the Community Team is led by Carol Filmanski of the United Methodist Church and Cathy Duke of Philipstown Reform Synagogue. Their team of local volunteers works closely with the family, orienting them to US customs and culture, and helping them integrate into the Cold Spring community. This team also provides personal support, from babysitting during the parents' ESL classes and accompanying them to local stores, to being a friend in time of need.
We are now building a fifth Community Team to prepare for our next resettlement. If you (or a group from your congregation) would like to be part of this team working closely with the new family, or wish to assist the specialized co-chairs in their work, please contact us at info@OpenArmsForRefugees.org.
Join Open Arms for a Special Event at the Center at Mariandale
On Wednesday, September 14 at 7 PM, Sister Norma Pimentel, MJ, Executive Director of Catholic Charities of the Rio Grande Valley, will speak at the Center at Mariandale on the topic Welcoming our Refugee Brothers and Sisters.
Over the past thirty years, Sister Norma has supported more than 100,000 migrants seeking refuge in the US along Texas' border with Mexico, providing emergency food, shelter, housing assistance, clinical counseling, and pregnancy care. She was personally recognized by Pope Francis and is a recipient of the University of Notre Dame's prestigious Laertare metal. In 2020 Sister Norma was named by TIME as one of the 100 most influential people in the world!
We are grateful to our friends at the Center at Mariandale for the opportunity to hear this remarkable woman's compelling and inspiring testimony. For event details and to register, please click below.

The Importance of Gathering
On Sunday Sept. 11, from 12-4 PM, Hearts & Homes for Refugees is hosting a picnic in Hartsdale for volunteers, refugees, and supporters to meet each other and to see what Community Sponsorship is truly about, which is the people.
Last year Dana Levenberg of Ossining, Erik Thielking of Croton, Peter Russell of Pleasantville, and Ted Buerger of Briarcliff met each other at the picnic and were in awe of the "newest neighbors" they spoke with there. This in-person connection was the start of Open Arms for Refugees, now with more than 60 active volunteers assisting four households.
If you would like to attend this year's event and meet some wonderful people, we'll send you details and add you to the guest list. Just email us at info@OpenArmsForRefugees.org.
Three of the four resettlements supported by Open Arms are from Afghanistan. Two media pieces inform us of the world our newest neighbors left behind but still care deeply about:
In "Taliban Rewind the Clock," the New York Times (8/12/22) chronicles the broad loss of rights. An excerpt: "Girls are barred from secondary schools and women from traveling any significant distance without a male relative. Men in government offices are told to grow beards, wear traditional Afghan clothes and prayer caps, and stop work for prayers. And music is officially banned, and foreign news broadcasts, TV shows and movies have been removed from public airwaves. At checkpoints along the streets, morality police chastise women who are not covered from head to toe in all-concealing burqas and headpieces in public."
In "Afghanistan Undercover," (Frontline, 8/9/22, 54 min) Afghan journalist, film maker and author Ramita Navai digs even deeper into the persecution of women across Afghanistan, filming in-person interviews of Afghan women and of Taliban leaders.
Back to School, Revisited
There's always a flurry of excitement around heading back to school, but imagine the emotions of two brothers from Colombia starting school in a new country.
Fortunately, Open Arms' "Schools Team," led by Leah Gutstadt and Celi Veras, has done its homework. They worked in June with the district's Director of Multicultural Learning to get one boy into the middle school Newcomers program, so he'd know the campus, meet some students, and be better prepared for classwork. The older boy has had ESL classes in the high school and with our tutors. Both boys are eager to learn. We also engaged the district's Family Resource Coordinator, whose job is to connect with the entire family, monitoring how they are doing and any resources needed. And both boys look forward to being in AYSO soccer this fall.
You may be wondering how you can help. Open Arms is raising money to give each boy a $250 gift card, so they can select their own clothing and school supplies. Contributions of $5 or more are welcome.

About the "Settle" in Resettlement
As we move forward with our fourth resettlement, we reflect on the process.
In Week 1, we focus on a safe place to live, a full fridge, a warm welcome at the airport and later, the apartment, and a dinner of familiar, native dishes. We assess English proficiency and career skills, schedule health exams, and explore their new hometown.
But the main goal of this first week is to help the family "settle," not just in the physical sense but emotionally as well. It takes time for their fears and apprehensions to ease; for them to feel safe, secure, and supported by a community that cares for them. This mental shift from "danger central" to "I am safe" to "new hopes and dreams" takes time. But it all starts with that warm welcome, which is the heart of Open Arms.
Thank you for being a part of us.
To most of us, a car is an essential. It is how we get to work, shop, see friends and family, and get things done. From our teens, it is also a mark of independence. Automobiles are not available to most refugees. This limits housing and work opportunities, not to mention independence, a key goal.
We are pleased to have enabled the transfer of three cars to refugees in the last four months. Each donation originated through supporting organizations of Open Arms. The most recent is from the spouse of an Open Arms volunteer to a working couple with two kids in White Plains. Several community sponsorship programs like ours wanted the vehicle, but they all coalesced in support of this family as most ready and most in need.
If you have a working vehicle you would like to donate, please let us know!

Using Your Connections to Help Masooma
Masooma N. is a remarkable 34-year-old electrical engineer, well qualified in building systems and distribution networks, who wants and needs a job. Masooma (pronounced MAH-suma) is working towards her doctorate in Artificial Intelligence (AI) and received "Special Immigrant Visa" (SIV) status for helping the American effort in Afghanistan. She speaks English and is ready to start work right away.
This is Open Arms' fourth resettlement effort. As such, there is a dedicated local "Community Team" to orient and support her. Financial support will be needed, but Masooma's resettlement costs are expected to be less than other refugees'. What she needs most are introductions to people and companies who might help her identify job opportunities in the field of electrical engineering and/or AI.
Sharing job networks was an important reason for establishing Supporting Organizations. If you or someone you know can share knowledge and advice on finding jobs in these fields, please let us know!
Reflecting on our first resettlement:
Blessings all around
It was only six months ago that we welcomed our first refugee, and it's a toss-up who was more excited – Freshta or the volunteers, some of whom who had already spent months anticipating her needs. It was an emotional homecoming, with hugs, gifts, and the relief that our young Afghan refugee, who had narrowly escaped death, was finally in our midst.
Despite Freshta's language challenges, it was clear from the outset that she was determined to work hard and ultimately advance her career goal of advocating for women's rights through legal channels in America. And now, on her six-month anniversary here, Freshta is taking a big step in the direction of her dreams as she begins a new job in the Westchester County Court system.
As we reflect on our first resettlement, we marvel at how quickly our first refugee has found a new role in our community, enriching us all with her courage, resilience, and sense of hope.
Making Ossining Their Own
Last week, our 'newest neighbors' moved from the Center at Mariandale into their new home in Ossining, within walking distance to their church. They've already met their town supervisor, checked out books from the library, swum at their community center, and ridden bikes along the Aqueduct trail. They've also registered for schools, started summer programs and told their ESL tutors to "relax, it will be ok." They have been offered jobs too, once their Social Security numbers come through. And yes, they've also chilled in their apartment, and found time to laugh.
Thanks to everyone for the warm welcome of this new family. It is their new life they are creating, with many challenges to come, but it has been beautiful to be with them on their journey.
Supporting Our Newest Neighbors
Last week's June 16 fundraising event drew a new and lively crowd and, together with the 2:1 match from the David Swope Fund, raised over $7500!  A big thank you to Sing Sing Kill Brewery for hosting and to Hudson Roots for organizing the successful event. 
A small story: The week before, Open Arms threw a surprise 14th birthday party for the youngest Ico, with Feliz Cumpleaños music, modest gifts and a $100 gift card. At the store last week, the birthday boy steered us away from games and sports he loves, to find headphones. He bought two pairs – one for his brother – and then found a hair iron for his mom. That's the family we are privileged to work with.
So again, thank you to all who have supported this wonderful family, through the Sing Sing Kill Brewery event or just quietly contributing by check or online. For more info, including how to donate funds, furnishings, Spanish skills or time, please click on the links below.

Sometimes the world works as it should: The Ico family needs housing. Freshta is moving to a smaller place closer to her new, better-paying legal job in White Plains. And the Center at Mariandale provided interim housing to bridge the timing. Both rentals are below market rates, specifically to help refugees.
This "housing swap" does not lower our costs but it does shift and focus the in-kind donations of furniture that we need. Our evolving list of needs includes: 
an indoor privacy screen/room divider
a ~3'x7′ cupboard or armoire for storage
a Chromebook
a grocery cart
You can help us resettle these wonderful newcomers by donating an item in-kind, by volunteering your time (especially if you speak Spanish), or by donating (tripled with the Swope Fund 2:1 match). We invite you to give the way that best fits you.
Our work depends upon the generous donations of our community. If you are interested in supporting our efforts by donating directly, or if you would like to subscribe for periodic updates, please click below. Thank you for your support.
June 7, 2022
With Your Help, Life Begins Anew
The Ico family was warmly welcomed at the airport, at their interim home at Mariandale (with native dish Bandeja Paisa) and on a summery stroll through Ossining, starting with Colombian pastries at the Town Supervisor's home and ending with private tours of the Community Center and Library. 
Sandra is learning the alphabet in English, her two teen boys have been out on bikes, and we joined them all on the free bus to Croton Summerfest. Volunteer translators and our Chairs helped the family through appliance safety, home checklist, health interview, initial job discussions, school registration forms, ESL plans, and health exam at Open Door.
That's just the first six days of this resettlement. The family appreciates the volunteers' work, organization and, yes, friendship. The volunteers love this work. And now it is time for the rest of us to do our part.
Please support the family and take full advantage of the Swope Fund's 2:1 match by attending our Sing Sing Kill Brewery fundraiser at 7 PM on June 16 or by donating online now.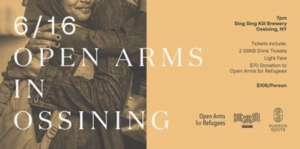 June 1, 2022
Open Arms Welcomes New Family
We are thrilled to announce the arrival of a beautiful family of three who escaped persecution in Colombia and are fortunate to land in our caring community. Our volunteers are working to get the mom and her two teenage sons settled as soon as possible, but that comes at a financial cost.
Just to start with: New housing requires a security deposit and two months' rent up front. Beds and bedding must be purchased new. Food and living expenses have to be covered while Mom is interviewing and waiting for her job to start. There is a cost for ESL classes, and not all clothing can be bought at thrift shops. The list goes on, as does the need. Thank you for your continued support.
May 23, 2022
Festivity On Tap:
Thursday, June 16, 7 – 10 PM
Sing Sing Kill Brewery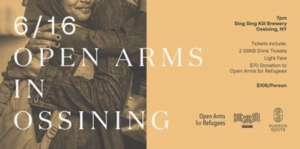 Join us for an evening of fun and fundraising! Hosted in partnership with Hudson Roots and Sing Sing Kill Brewery, this community social is geared to acquaint our neighbors with the important work Open Arms is doing to welcome and resettle refugees in the greater Westchester area.
Tickets are $105/person and include two drinks, light fare, and a $70 donation* to Open Arms. They can be purchased in advance (click below) or at the door with cash or via Venmo. Please come and bring your friends!
*Thanks to a generous 2-to-1 matching grant from the Swope Fund, your gift triples in value from $70 to $210!
May 18, 2022
Extending "Open Arms" to More Refugees
Two big announcements: First, in recognition that our scope and support now extend far beyond Ossining, Ossining for Refugees is changing its name to Open Arms for Refugees. 
Second, the David Swope Fund has awarded "Open Arms" a $250,000 grant. The grant is  payable as a 2-to-1 match on the next $100,000 raised for future refugees. It also includes a $50,000 endowment to cover future special needs. Ultimately this grant is expected to make possible the resettlement of ten refugee families. And we know, sadly, that many refugees will be coming.
David Swope was a beloved and astute local philanthropist whose grants improved people's lives. We are honored to be part of his legacy. And we thank all the volunteers and Supporting Organizations who have made us worthy of this timely and inspiring donation.
May 11, 2022
A Temporary Lull in Resettlements
Last week, we anticipated a Guatemalan refugee family arriving here, as our third resettlement in four months. But, like the Afghan and Ukranian families we worked with in April, this family was ultimately offered a way to keep their kids in their schools and stay where they were.  There is much generosity in this country.
Why, you may ask, are we working on moving families already here instead of on new arrivals? First, because we were asked, and the need was urgent and real. And second, because April and May have seen a lull in resettlement, after the heavy push to move Afghans out of the military camps.
Sadly, the lull in resettlements will not last. Next week we will share important news on how – with your continued support – we think we will be able to respond. 
May 4, 2022
At the end of the day, refugees find their way
Through these posts, we have tried to convey the ups and downs of resettling refugees. These beautiful people leave an indelible impression on our hearts. It is a privilege to be allowed into their lives at such a vulnerable time, and a pleasure to explore every possible contingency to assure their wellbeing. As you play such a vital role in this work, here is an update of where our newest families have landed.
We are happy to report that the Ukrainian family found just what they needed in New Jersey, where the community is supporting them as we would.
After careful consideration, the Afghan family of five, who fell in love with Ossining on Earth Day and vice versa, has decided to stay in New Jersey where their children can finish up the school year, the wife can continue vital physical therapy, and the rents and wages are more favorable in the long run.
Latest news: we are in discussions with Catholic Charities and a Guatemalan family. It could be a wonderful fit for all. Stay tuned….
Apr 26, 2022
Supporting temporary stays in the U.S. for Ukrainian Refugees
Did you know… the Biden administration has established Uniting for Ukraine, which allows Americans to sponsor Ukrainians under a system known as humanitarian parole. Those willing and able to provide financial support for the Ukrainians for up to 18 months must be vetted before they can be accepted.
Ossining for Refugees has a small group exploring the program on behalf of all of us, and we have taken initial steps to make this a reality. We have submitted preliminary paperwork and will be getting names of Ukrainians needing to be sponsored. Applications must be made by individuals, but individuals can receive support from houses of worship or other groups.
If you (or your house of worship) wish to be part of this program, kindly notify us at info@ossiningforrefugees.org.
Apr 20, 2022
At the Heart of What We Do
Two weeks ago, O4R offered safe emergency housing for a world-weary Ukrainian family. Happily, that family has found a warm outpouring of support in NJ. But we were ready.
In the last 24 hours, we have been asked to resettle an Afghan family of five, beginning May 1. Such short notice is not unusual and so we immediately went to work looking for affordable housing, alerting the schools, lining up volunteers, and exploring jobs for the dad. We do all this not knowing if the family will choose to move here, where they have no family or other connections.
This is what O4R was created to do, and we embrace the work and the uncertainty. It reflects that we as a community are offering this family a choice, standing with them while they make the important decisions in their lives. Your generosity and flexibility
support us in this mission, and we thank you.
Apr 12, 2022
An Early Arrival from Ukraine
Last week, we were alerted by WJCI and a rabbi in NJ of the urgent need for housing for a Ukrainian family of nine, with days left on space in a hostel in NYC. We checked with key Supporting Organizations and within 48 hours O4R was able to offer two months of interim housing, with support for food, transportation, and ESL as needed. We also noted reasons that this family might be best resettled in NJ. The Rabbi has now offered them his own home through Passover.
"They also serve who stand and wait." So a big thank you to the Center at Mariandale, to WJCI, and to our volunteers for standing ready. It was a great relief to the family and the Rabbi to know that there was and is a safe option here in Westchester, while they try to find what is best for this family.
Thank all of you for standing with us.
Apr 5, 2022
Helping Ukrainian Refugees
Our hearts go out to the people of Ukraine, and we are ready to serve those fleeing their beloved homeland and seeking refuge here. O4R volunteers are prepared to address their immediate physical needs – food, shelter, medical care – and are sensitive to the deep emotional wounds they will continue to suffer. In this season of religious holidays, including Passover, Easter, and Ramadan, we pray for peace and look forward to providing stability, comfort and hope to Ukrainian refugees. Thank you, as always, for your support. We will keep you posted.
Mar 29, 2022
Thrift Shops to the Rescue!
Thrift shops of O4R Supporting Organizations have been a key part of how refugees (and all of us) can live better on a budget. Just last weekend, Baseer and family discovered a lovely table and chairs and other things they liked at St. John's Thrift Shop in Pleasantville. The IFCA Thrift Shop, reopening April 5 in a larger space across from Four Seasons in Ossining, has also made its clothing available to refugees resettling here, and will continue to do so with even more to offer. As our new neighbors go forward, these shops give them the power to make their own choices and pay their own way, at prices they can afford. You can help these shops help others by shopping there for yourself, which also benefits the environment by recycling gently used items.
On Sunday, March 20, Afghans from across Westchester came together to celebrate Nowruz (literally "new day"), which marks the arrival of spring and a new year. Attendees (including some lucky O4R volunteers) enjoyed traditional foods, from Qabili Palau, a delicious chicken dish with carrots, to the dried fruit and nut holiday specialty, Haft Mewa ("seven fruits"). There were kids on tricycles, Afghan music, lively conversation, and much dancing.
Organized in part by O4R volunteer Qudsia Haseq, the event was also a wonderful opportunity for Afghans to meet each other, and for us to find out how more experienced refugees had dealt with driving tests, DSS, and other challenges. A fun cultural event and an education all around! It felt great to be welcomed as friends of the Afghan community, and to share this joyful evening.
The Center at Mariandale is a retreat of simple beauty and peace. Its meandering pathways, contemplative maze and views of the Hudson River are themselves restorative and healing. Led by Dr. Carl Procario-Foley, the Center and its staff are instinctively welcoming and generous. 
Four weeks ago, as Baseer's family bounced from one AirBNB to another, Carl offered part of their main building as a refuge for the family – for up to seven weeks, at no cost. The staff had a welcome party, hosted quilters giving a gift to Freshta, and gave Baseer and Nabila space to settle in while negotiations and arrangements proceed (successfully) at the camp.
A big thank you to the Center for this generous and timely gift, truly "welcoming the stranger." We are proud to have them as a Supporting Organization of O4R.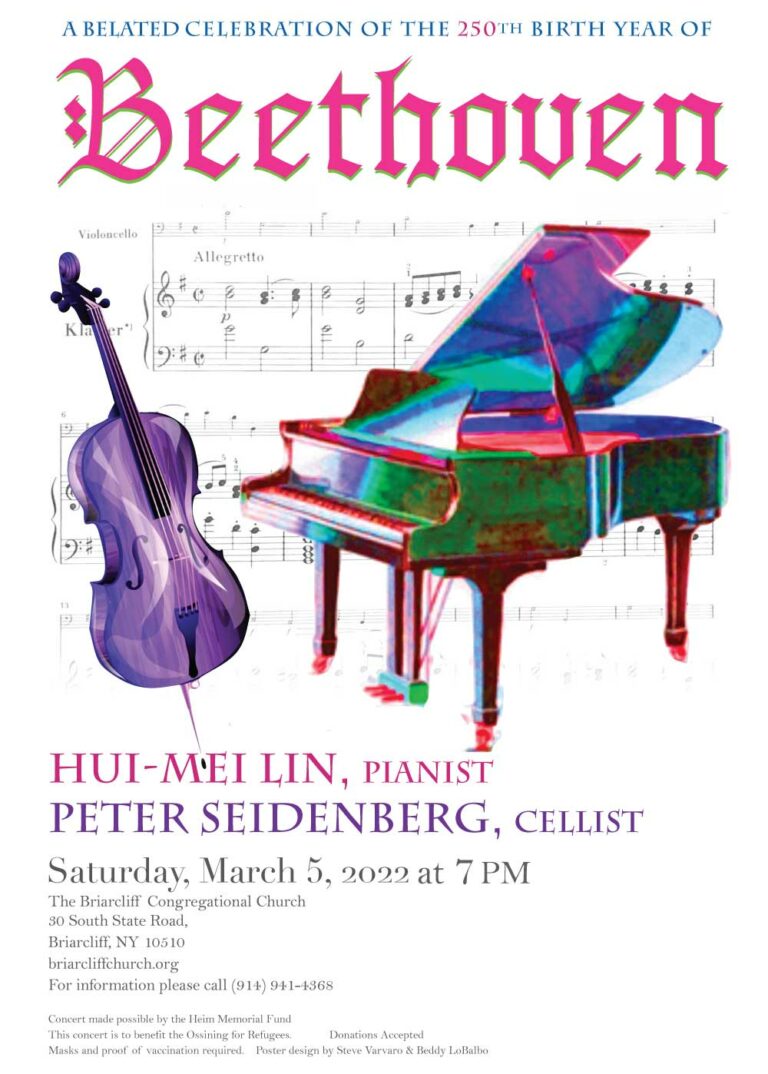 THANK YOU to pianist Hui-Mei ("Fimi") Lin and cellist Peter Seidenberg for their brilliant and moving Beethoven concert Saturday, March 5, at Briarcliff Congregational Church (BCC). The "free will" offering for Ossining for Refugees raised $3,200, with subsequent donations still being received by mail. In her thanks to the audience, Fimi, who is Music Director at BCC, shared her personal immigrant story. Coming from Taiwan alone to study music, the 15-year-old Fimi was given shelter, food, and friendship by a kindly young woman who remains her close friend today. This generosity has made all the difference in her life.
Successful resettlement requires money! Thank you, Peter and Fimi, for bringing joy to all in attendance while also supporting this important initiative to assist "our newest neighbors." Bravo! 
Wow! In the last two weeks our network of Supporting Organizations came through with a double stroller, a tea kettle, a pressure cooker (as a surprise birthday gift) AND free housing through March 15, when Baseer's family can move to the summer camp. 
In addition to covering the family's food, ESL classes and basic necessities since their arrival, your donations are also making the summer camp job possible by paying for his on-the-job training, while O4R volunteers will help him get a NY driver's license and meet other camp requirements. Here one month, Baseer is seizing the opportunity for a new life. See what we can do together! 
Thanks to all for being part of the O4R Support Network.
A big THANK YOU to our Supporting Organizations and their members.  Your donations, connections, and leads have lined up furnishings, starting food supplies, and warm clothing for all, plus many job options for F and Baseer. (F is accepting two, Baseer still exploring.)  Open Door, Neighbors Link and Career Closet have also provided key services on short notice. Connecting our four communities has magnified our impact.
We are pleased to report that our first refugee, F, is here, happy and thriving! She thanks everyone for welcoming her so warmly.

Open Arms for Refugees is a Community Sponsorship organization, bringing together neighbors, houses of worship, community organizations and key service providers in Ossining, Cold Spring and surrounding towns, with the shared mission of welcoming and integrating federally-sponsored refugees into our communities.